Summary:A Multi-Arc Ion Vacuum Coating Machine is a type of coating equipment used to apply thin films of me...
A
Multi-Arc Ion Vacuum Coating Machine
is a type of coating equipment used to apply thin films of metal, alloy, or ceramic to various substrates. It uses multiple electric arcs in a vacuum chamber to evaporate the coating material, which is then deposited onto the substrate to form a uniform and high-quality coating. This technology is commonly used in the production of optical, electronic, and decorative components
Multi-Arc Ion Vacuum Coating Machine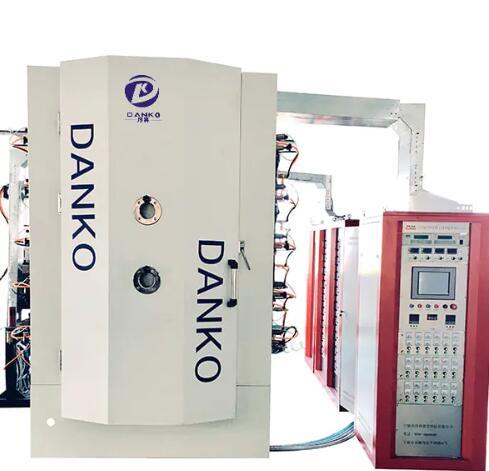 System Summary
  Arc Discharge: An electric arc or arc discharge is an electrical breakdown of a gas that produces an ongoing electrical discharge. The current through a normally nonconductive medium such as air produces a plasma; the plasma may produce visible light. An arc discharge is characterized by a lower voltage than a glow discharge, and it relies on thermionic emission of electrons from the electrodes supporting the arc.
  Multi-arc ion coatings can be deposited in a wide range of colors. The range of colors can be further enhanced by introducing reactive gases into the chamber during the deposition process. The most widely used reactive gases for decorative coatings are nitrogen, oxygen, argon or acetylene. The decorative coatings are produced in a certain color range, depending on the metal-to-gas ratio in the coating and the structure of the coating. Both of these factors can be altered by changing the deposition parameters.
  Prior to deposition, the parts are cleaned so the surface is free of dust or chemical impurities. Once the coating process has started, all the relevant process parameters are continuously monitored and controlled by an automatic computer control system.
  • Substrate Material: Glass, Metal (carbon steel, stainless steel, brass), Ceramics, Plastic, Jewelry.
  • Structure Type: Vertical structure/Horizontal structure, #304 Stainless Steel.
  • Coating Film: Multi-functional metal film, composite film, transparent conductive film, reflectance-increasing film, electromagnetic shielding film, decorative film.
  • Film Color: multi colors, gun black, titanium golden color, rose golden color, stainless steel color, purple color and other more colors.
  • Film type: TiN, CrN, ZrN, TiCN, TiCrN, TiNC, TiALN and DLC.
  • Consumables in production: Titanium, Chromium, Zirconium, Iron, alloy target.
  APPLICATION:
  • Glassware, such as glass cup, glass lamps, glass artworks .
  • Table wares, like metal forks and knives.
  • Golf wares, like golf head, golf pole and golf balls.
  • Sanitary Products/bathroom wares.
  • Door handles & locks.
  • Watches parts, like watch case and belt.
  • Metal jewelry.
  • Large size sheet, plate, pipe, tube and so on. Like large stainless steel plate and furnitures.
  Danko Vacuum Technology is professional China multi-arc ion coating machines manufacturers and multi-arc ion vacuum coating machines company ,including but not limited to Sputtering Systems, Optical Coating Units, Batch Metallizers, Physical Vapor Deposition (PVD) Systems, Hard and Wear Resistant Vacuum Coating Deposition Equipment, Glass, PE, PC Substrate Coaters, Roll-to-Roll Machines for coating flexible substrates. our Multi-Arc Ion Vacuum Coating Machine are used for a wide range of applications described below (but not limited to) Automotive, Decorative, Hard coatings, Tool & Metal Cutting coatings, and thin film Coating applications for industrial and Laboratories including Universities.Danko Vacuum Technology Company Ltd is committed to expand our market boundaries by providing high-quality, high-performance Multi-Arc Ion Vacuum Coating Machine.